500 Festival Parade
The 500 Festival Parade took place for the first time in 1957. It, and several other related activities, largely came about following a series of newspaper editorials by local columnists over a two- or three-year period, who had witnessed the several-day celebration in advance of the Kentucky Derby.

Back Home Again In Indiana
Although there are reports that "Indiana," as the song was originally titled when published in 1917, was played by a trackside brass band as Hoosier driver Howdy Wilcox ran out his final laps on the way to winning the 1919 "500," it was not until 1946 that it was sung on race morning. James Melton, of the New York Metropolitan Opera Company, was a collector of classic cars, and was at one time president of the Antique Automobile Club of America. He supplied several of the vehicles which participated in a race-morning lap of classic automobiles around the track in 1946, and approximately 45 minutes before the start of the race, he sang "Indiana" with the Purdue University band over the public address system. It was so well received that he was invited back the following year, and in 1948, it was decided to "move it up" to its current slot in the order of the day, just prior to the firing of the engines. Among Melton's better-known successors have been Mel Tormé, Vic Damone, Dinah Shore, Ed Ames, Peter Marshall, Dennis Morgan and Johnny Desmond, with popular Jim Nabors having missed only a handful of years since 1972.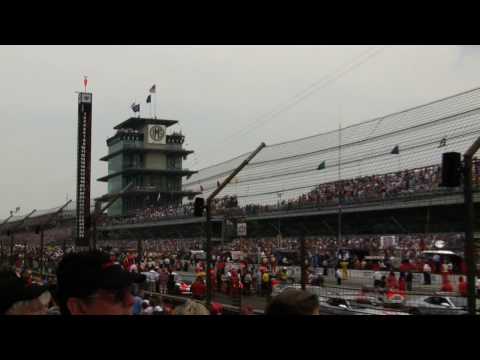 Balloons Before the Start
It is believed that 1947 was the first year for the release of multi-colored balloons on race morning and that it was Tony Hulman's wife, Mary Fendrich Hulman, who made the suggestion. By 1950, the release had been timed to coincide, as it does to this day, with the final notes of "Back Home Again In Indiana."

Borg-Warner Trophy
The Borg-Warner Trophy, one of the most recognizable trophies in all of sports, has been awarded to the winner of every Indianapolis 500-Mile Race since 1936. Crafted out of sterling silver by Spaulding-Gorham of Chicago, it was unveiled at a dinner in New York in February 1936, featuring bas-relief sculptures of every "500" winner up until that time. The new winner has been added every year since, and in 1986 (the trophy's 50th anniversary), the final space became filled. The solution for 1987 was to add a base, but this too became filled, and in 2004, an even larger version replaced it, this one with enough spaces to last through 2034. The only sculptured face not of a winning driver is that of the late Speedway owner Tony Hulman, whose likeness, in gold, was placed on the base in 1987